I went on another thrift store run. I scored some great deals like these stacking bamboo storage containers.
Four 15" x 6" stacking bamboo storage boxes
I bought two 12" x 6" bamboo boxes which were selling for $3.93 for a set of two. But, today they were 50% off, so it only cost me $1.96 for two. Note, that the regular retail for
one
of these boxes new is $7.99 ($15.98 for two). I saved $14.02 or about 88%!
Next, I bought four 15" x 6" stacking bamboo boxes for $3.46, regularly $6.92 before the 50% off sale. These retail for $9.99 each, if new. I saved $36.50 or nearly 91%!
Finally, on a different thrift store excursion I bought this drawer knife block.
I had this Wolfgang Puck knife block set (below) which sat on the counter.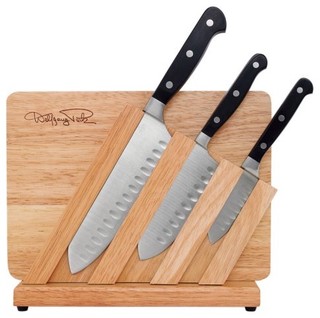 I want to clear off my counters so I bought the drawer block (shown above). The drawer block was still in the original packaging. It sells for $22.79 at Target. I bought it for $3.93 at the thrift store, saving me $18.86 or over 83% off new retail.
Oh, I
love
finding deals at the thrift store. I'll post more finds soon.